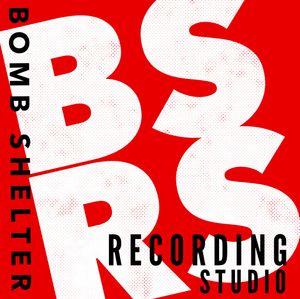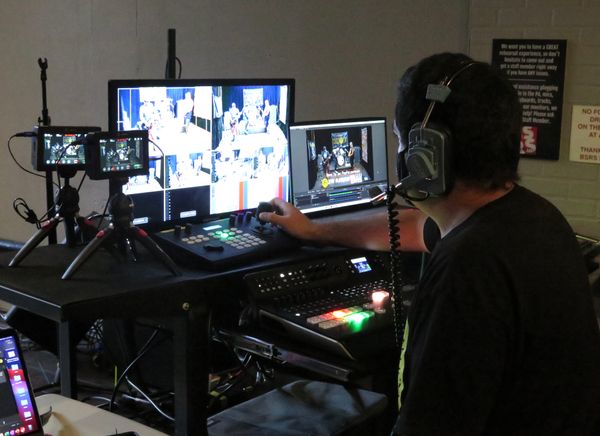 Using our Showcase Room for Video Shoots is an AWESOME choice!
Our Showcase Room is a great room for recording sessions, video shoots, events and more! It features a couch and lounge area at the back of the room. A balcony for additional camera angles or extra lighting, and an adjoining room that can be used for food, storage or a green room.  When booking the Showcase Room for a shoot, the adjoining room is included.  Recently remodeled, the stage area has been enlarged, the drum riser is also new and is now 8'x8'.  We feature a custom wood plank wall at the back of the stage, with a curtain rod where we can hang the heavy duty black velvet curtain. The stage area (drum riser/walls/ceiling) has been painted with flat black paint. The QSC PA system is able to be moved if you need it to be out of the camera shots.  We offer a basic lighting set up with three American DJ LED bars across the back of the stage, and four PAR LED lights overhead in front of the stage.  There is also a DMX lighting controller that is available.  The mixing console is a Soundcraft Si Impact 40 channel digital mixer. Additional chairs and tables also available.
3 Hour Minimum   
Band and Crew ONLY
72 hour Cancellation Policy
$100 Deposit is Required 
DIY Video Shoot:
Cost: $50 per hour, 3 hour minimum.
> You are bringing your own Camera and or Camera Crew
>You are using backing tracks/pre-recorded audio (lip sync)
>You are bringing your own mics or audio gear
>Need just a basic PA set up** 
**Basic PA set up includes vocal mics, plugging in the backing tracks, or plugging in an acoustic guitar or keyboard.  We will have a staff member give you a basic set up, but will not be available to run sound during your entire shoot.
DIY Video Shoot + Audio Provided by BSRS
Cost: $75 per hour, 3 hour minimum.
> You are bringing your own Camera and or Camera Crew
> We take care of all audio both PA in the room and Micing the band/instruments that are being recorded.  Audio is tracked into Pro Tools, and a stereo live mix is provided for your cameras.
BSRS Full Production VIDEO and AUDIO: We take care of EVERYTHING!
Cost: $95 per hour, 3 hour minimum
Two large adjoining rooms with 18' ceilings for workspace. Couch at the rear of the larger room. Ample space for gear storage, green room, dressing area, make up chairs, food or refreshments.
4 PTZ Cameras w/Joystick
ATEM Television Studio Pro HD switcher
2 Video Assist Monitors
PC Laptop
All set up on a custom AV cart that is Plug and Play
minimizing set up and tear down time.
Audio: All instruments and vocals are mic'd. Signal is split between the PA in the room so the band can hear themselves, and also sent to our recording studio through our SSL console into Pro Tools.  Your session will be recorded in Pro Tools as well as mixed live with a stereo feed sent back down to the live room for the cameras and live stream.
Band will need to purchase from us 2 SD cards and a Thumb Drive for this session.
**For the full production with us, we will require a pre-production meeting to go over the schedule for the time booked.**
Included in the cost of the room for Video Shoots:
Showcase Room plus the Adjoining Room
Any Gear, Drums, Guitar Amp, Bass Amp (if needed)
Black Velvet Curtains (if requested)
Lighting and Lighting Controller
Room will be set up with exactly what you have requested
Stage Dimensions: approx 15'x15'...225 sq ft
Drum Riser Dimensions: 8'x8'...64 sq ft
Total Room Dimensions:  15' wide by 35' long...525 sq ft
Adjoining Room Dimensions: 15'x20'...300 sq ft