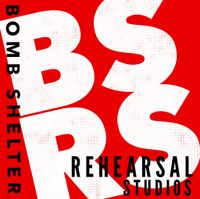 We offer pro level equipment for your use here at the rehearsal studios.  We have a regular maintenance schedule for our gear, so that it is always in proper working condition when you arrive. Scroll down to see the entire list.
PA EQUIPMENT
QSC Power Amps
Soundcraft Mixers in ALL Rooms
Yorkville Speakers
PAS Speakers
Audix Microphones OM2
Exclusively for our Showcase Room...
Soundcraft Si Impact 32 Channel Digital Console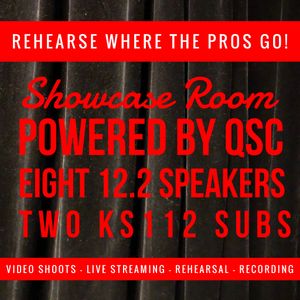 Drums:
Rooms 1-5 all feature PDP Concept Maple Drum Sets.  
All sets are the same color, Natural to Charcoal Fade.
Tom Sizes are 10", 12", 16".  Two rack toms and a floor tom.
PDP Concept Snare Stand. 
DW3000 2 legged hi hat stands.
Soultone Abby Cymbals, ride and hi hats.
Soultone Abby Crash Cymbals 16" and 18" available for additional fee.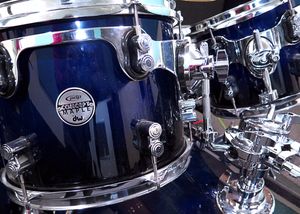 Premium Drum Set Exclusively
for the Showcase Room...
DW Design Kit in White Gloss Finish
DW 5000 series hardware accompanies this kit. 
Snare Stand, Hi-Hat Stand, and 4 Cymbal Stands.
Soultone Abby Cymbals, 20" Ride and 14" hi hats.
Soultome Abby Crash Cymbals, 16" and 18" are available for an additional fee.
Drum Accessories:
Soultone 20" Abby Ride Cymbals,
Soultone 14" Abby Hi Hat Cymbals 
Roc-N-Soc Nitro Drum Thrones
DW 3000 Single Kick Pedals
DW 5000 Single Kick Pedals
DW 3000 Double Kick Pedal (**this item is an additional cost to rent)
PDP Concept Series Snare Stands
PDP Cymbal Stands
Guitar Amps and Cabinets:
Orange CR120 (120 watts) Solid State Amp Heads 
Marshall 4x12 1960 Lead Slant Cabinets
B-52 LS100 Solid State Amp Head with matching B-52 Cabinet
Traynor Tube 2x12 Combo Amp YCV80 (80 watts) Custom Valve 80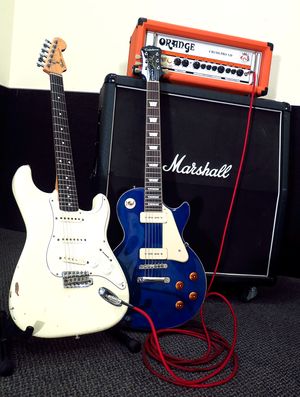 Bass Amps and Cabinets: (rooms 1-5)
All Bass Amps are the SAME! 
We now feature
Ampeg SVT7 Pro Bass Amp Head with matching
Ampeg 410HE Classic Cabinet.
Premium Bass Amp Exclusively for our Showcase Room...
MESA BOOGIE Subway D-800 with Ampeg 8x10 Cabinet
Keyboard:
Roland Juno 88 Weighted Key Piano (**This item is an additional cost to rent)
Power Cable and Foot Pedal
Single Scissor Keyboard Stand
Double Tier Scissor Keyboard Stand
Guitars and Basses:
**These items are an additional cost to rent
Fender Stratocaster Guitar Made in Japan (poss. 80's era)
Cream color with Rosewood Fret Board
Light D'Addario EXL110 10-46 strings
Professionally Set up and Maintained
Epiphone Les Paul Custom Guitar
Blue Stain and Cream Binding with Rosewood Fret Board
Light D'Addario EXL110 10-46 strings
Professionally Set up and Maintained
Epiphone Thunderbird Bass Guitar (4 string)
Tobacco Burst with Rosewood Fret Board
Passive Bass
D'Addario Bass Strings
Professionally Set up and Maintained
Additional Accessories:
Mackie 402VLZ4 (4 channel mixer with Onyx pre-amps)