Why we do what we do...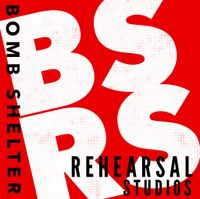 We believe that quality and superior customer service is what keeps bringing people in, and then keeps them coming back.  We think that rehearsing should be a pleasant experience, not a headache.  We want to promote a positive and creative vibe so that everyone feels at home when they come here to rehearse.  We are constantly striving to improve what we have here to offer our clients, so come check out what we can do for you.
Britt and James Trace-Owners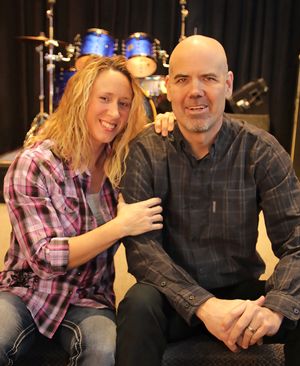 Little bit of Bomb Shelter History...

When we were considering just how we were going to build the rooms here at Bomb Shelter,  we decided that we wanted to make them different than any other existing facility. Not only different but better. Better than anything else currently available. The main problem with most rehearsal studios is the fact that the rooms are not isolated enough to keep out the sound from the next room, making it almost impossible to focus on your own rehearsal and your own music. Our solution to this, freestanding solid concrete isolated rooms. The rooms we have were built with a styrofoam block system that then is filled with re-bar and concrete. The fact that the rooms do not touch one another at all, and that they are concrete makes a huge difference in the sound transmission between rooms.  We were setting the new standard for what a rehearsal studio should sound like, not only how much you hear between the rooms but how it sounded in the rooms. We are the FIRST rehearsal studio to go to extreme lengths to dramatically reduce the sound transmission between our rooms.

In addition to the rooms being constructed in such a way that even the city planners at the City of Westminster had never seen, we also included some unique features built in to the rooms here. We are also the FIRST rehearsal studio to incorporate acoustic treatments such as bass traps into the rooms. Each room here at Bomb Shelter has bass traps that are built in to the ceilings to help reduce the amount of low frequency standing waves that usually build in the corners. The rooms also have a certain amount of the walls that are not covered with carpet or foam. This helps to give the rooms a little bit of a live sound, but not too much. I've heard people say that it gives the room a more "natural" sound. We are the pioneers in acoustically designed rooms both inside and out for rehearsal rooms. We set a standard and have raised the bar for quality in the rehearsal studio industry.

We are always looking to improve what we have to offer our clients here at Bomb Shelter. Our level of customer service is unmatched by any other studios in the Orange County area. Since we opened our doors here in 2000, one of our promises was to set up the rooms to our clients request. Letting the client decide what they want to reserve and how they need it set up in the room. If they want to bring all of their own gear, we provide the room clean with just the P.A. set up in it. As well as the reverse, if a client wants drums a bass amp and a guitar amp in the room we will already have those set up and ready for them to rehearse. We do this for several reasons. Setting the room up per our client's request actually allows us to be more flexible in how we book our time. In addition why leave all our gear in a room for our clients to have to move and set up around? Personally, why leave our gear out for the possibility of other people taking it? We would  rather be able to keep acurate track of our gear and that's easier to do when it's not left out.  We think that  our clients appreciate having the room set up how they want it. Kinda like getting a burger "your way!" 

When people come here to rehearse, we want them to feel like part of our family.  Welcome, we hope you like what we offer and continue to return again and again.  Let us get to know you and you will realize what is so unique and special about what we've created here at Bomb Shelter.   Thank you for your business!