Policies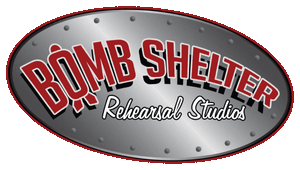 We are a DRUG FREE ZONE.  Illegal substances are not permitted in our rooms or on our premises.  This includes common areas and anywhere in plain view.  Alcohol is allowed only inside the rehearsal rooms.  Those who appear to be visibly intoxicated upon arriving here or are during their visit may be asked to leave the premises.  This will be strictly enforced.  No smoking is allowed inside any of the rooms, we ask that any substances or paraphenalia be left in your vehicle during your practice here.  This will also be strictly enforced.  Thank you for your help in keeping our facility safe for all ages!
 
>>>PLEASE READ THE FOLLOWING IMPORTANT INFORMATION<<<
Welcome to Bomb Shelter Rehearsal Studios! We appreciate you booking your sessions with us. We look forward to having you here. Our computerized booking system has really helped us keep the schedule accurate and running smooth. Once you have booked a session here, please take the time to check your confirmation email. If your booking does not look correct, give us a call immediately so that we can make necessary changes. Our system is set up to send you both an email confirmation when you book, as well as a reminder email 48 hours before your scheduled session.
We are here to help you have hassle free rehearsals, so here are some quick reminders...please read.
CREDIT CARDS:
Beginning on Feb. 1, 2012 ALL new clients will be required to provide Credit Card information in order to book time here. Your information will be stored to your profile or band profile, created here in our system. It is safe and secure, and is encrypted once it is entered and saved. You are not pre-paying for your rehearsal, rather the saved card is ONLY used if you Late Cancel, or No Show. You are welcome to pay for the rehearsal with a different card, or bring cash instead. If you have any questions about this policy feel free to call and we are happy to explain why this is an important step when booking time with us.
 CANCELLATION POLICY: 
We do have a 24 hour Cancellation Policy for the Rehearsal Studio. What this means...When you book time, think of it as a comittment. We highly suggest making sure ALL of your band members are on board BEFORE booking time. It is very important to us that we keep our schedule accurate, we want to serve as many musicians and bands as possible. In order to do that, we need your help. If you do find out that something has come up causing the need to change your booking, please call us immediately! With MORE than 24 hours notice we can cancel or move your booking with no charges incurred. However with LESS than 24 hours notice, you will be responsible for paying the total amount for the time you booked. The credit card you have stored to your profile with us will be charged to pay for a late cancel or no show. 
ATTENTION DRUMMERS:
A reminder for you drummers out there...if you booked a rehearsal spot with us that includes our set of drums, the only item that we DO NOT currently provide is a CRASH cymbal. Our sets do include ride cymbal and hi-hat cymbals, as well as all the stands you may need. Please call if you have any specific questions.
WE NOW RENT CRASH CYMBALS FOR $3 each.
DAMAGES:
In the event that you use our gear, and damage it during use that is above and beyond normal wear and tear, you will be responsible for covering the cost to replace or repair it.  Drum Heads, we replace these regularly and we think everyone deserves to play on a great sounding kit.  Please be respectful--If you crack, dimple, rip, tear, poke a hole in any of our heads that is beyond regular (and reasonable) rehearsal use...you are responsible for the cost of replacing the head(s). Kick: $35, Toms: $35 (set), Snare Top: $20, Snare Bottom: $15. If you have any issues with our gear, let a staff member know RIGHT AWAY!  Any amps that are damaged, we will get a quote on the repair cost and then you are responsible for the total $.
CLEANING FEES:
We also think everyone deserves to play in a clean rehearsal room, we appreciate it when you help us by putting your trash/food/beer bottles in the trash cans we provide. If you leave the room trashed after your rehearsal, we do have a cleaning fee. Stains, spills, trash, food etc. Regular Room Cleaning Fee is $25, Showcase Room Cleaning Fee: $50. 
 
Booking Your Rehearsal: 
Currently the only way to book or cancel time here at Bomb Shelter is by calling us at 714-240-7345. We do it this way to keep down the instances of making any mistakes in the booking process. Want your room set up a specific way? No problem. We're here to set up your room how you like it.  When booking your time let us know what you need or don't need, and we will have it ready to go when you get here.  Need to borrow an item or piece of gear? What we do is trade you for an I.D. card or Driver's License and you may check out as many microphones as you need, or borrow a guitar cable. Doing this helps us to keep track of these items, and keeps them available for you to use. We don't charge extra for items such as guitar cables, microphones, power cords, speaker cables, extra mic cables, etc. We know that people forget things and we are happy to help. 

Showcase Room for Video Shoots: 
Must put ½ (50%) of total for the shoot down as a deposit to hold the time.
If cancelled with less than 48 hours notice from the time booked, 100% of the deposit is forfeited. Room rental for video shoots, $35 per hour.  You may add an additional room to use as a green room for an extra $10 per hour.

That should do it, thanks for reading and familiarizing yourself with our policies!
Let us know if you have any questions.

Bomb Shelter Staff
 
Without you we would not exist. We greatly appreciate your business. While we respect your art, we trust you will respect a few simple rules. By doing this you'll help us keep our facility nice for everyone to enjoy!
 
Please allow yourself enough time to setup and teardown your gear without infringing on the next band's time slot. Often times we will let bands in the room early to set up-this is a courtesy.
If a piece of equipment is not working or you need technical assistance--ask for help right away.
No smoking in the rooms or inside the facility, outside only.
No illegal substances allowed anywhere on Bomb Shelter property,
this includes any items in your pockets and on your person.
If you break something, just tell us.
Be respectful of others practicing here.
Thank you for helping us to create a friendly, fun and positive atmosphere here at Bomb Shelter Rehearsal Studios.